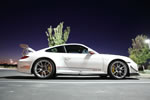 Porsche GT3 RS 4.0 I picked up my GT3 RS4.0 on September 1, 2011 trading in my 3.8L GT3. My first impression on the way home was that the ride was more supple. The look speaks for itself. This is my fourth GT3 (996, 997, 997 Gen II 3.8). I have used these wonderful cars for 100% fun with track and autocross outings. Each GT3 has been quicker yet more refined than its predecessor. The RS 4.0 is easier to drive at speed than my 997 Gen II GT3. I suppose a 997 Gen II RS would be a better comparison but I have always preferred the relatively low profile base GT3 than the high visibility RS. The RS 4.0 does have high visibility but is a bit more elegant in terms of decals.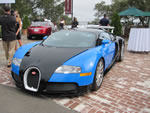 A Bugatti Veyron with a prototype Tesla S in the background. The Bugatti Veyron represents the pinnacle of automotive technology. It was named car of the decade by the BBC's Top Gear program, which is the TV program of the decade, at least to car buffs. The Veyron's W16 engine propels this car to over 250 mph. The Tesla S is about 1.5 years away. Chief Designer Franz Von Holzhausen touted the Tesla S as a vehicle that keeps the passion of cars alive in the coming electric car age when we are saved from our "addiction" to petroleum. He stressed the volume of available space allowing five adults plus two children, who will sit in some yet-to-be seen rear trunk-area seats, as a major point. Oh fun! I was also taken by the electric motor's description as a "watermelon-sized" thing that will go between the rear wheels. Oh double fun. PS Don't get me wrong, my wife and I have been looking forward to getting an all electric car for years even before they became the green thing. I just don't buy "the passion is still alive" thing. when I see the current offerings. So far, we haven't seen any electric car that strikes our fancy. The Mini Cooper is still our choice for urban driving. I do love the hybrid Porsche 918. It beats the Veyron for ultra-cool, and it is green.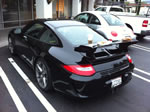 Porsche GT3 Coffee Bar A friend and I were up early to drive my GT3 at an autocross. We stopped at Starbuck's for coffee and rolls. We discovered that the GT3's rear wing makes for a very nice coffee bar. The fun and versatility of this car continues to amaze me.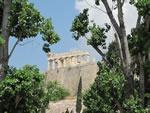 Parthenon viewed from the Plaka We visited Greece for the first time since 1977 and headed to the Plaka on our first day. There are many views of the Parthenon on the Acropolis from this old area of Athens.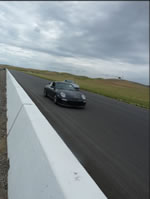 Porsche GT3 versus Carrera S PDK Drag Race I was at Thunderhill for a track day in my 2010 GT3. After lunch, we had some drag races on the main straight. This is a picture of my black GT3 and a silver Carrera S with PDK close to the finish at the flag station. The quick shifting PDK surprised me by keeping close from the rolling start until I got into third gear. I think a PDK equipped Porsche Turbo would be the ultimate car to have. However, I am not sure if I could part with my GT3.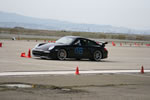 2010 Porsche GT3 working out I have run two autocrosses with my new 2010 GT3. The car is measurably quicker than my 2007 GT3 based upon % comparisons I keep to other cars I ran with last year. It is a delight to drive with great turn in, excellent rotation, fanstastic brakes, and rocket acceleration. The car has two personalities. It is quite luxurious in electonics and interior appointments AND it is an exceptional track car. The engine sound is awesome.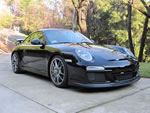 2010 Porsche GT3 I picked up my new 2010 Porsche GT3 on January 2, 2010 trading in my second favorite car of all time, a 2007 GT3. The new GT3 seems a bit suppler in its ride. The car has Ceramic Brakes, Dynamic Engine Mounts, Front Axle Lifting System, plus the new electronics in the PCM navigation, and Bluetooth Phone interface. Even though it is becoming more Carrera-like in its options, I expect it to be quite GT3-like when I get it on a track in March.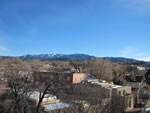 Santa Fe, New Mexico December 2009 We often stop in Santa Fe on our Christmas trip from Texas to California. Santa Fe has wonderful shopping that you won't find in the malls whether you are looking for art or jewelry or just something unusual. This year, there was a light dusting of snow that added a special touch to this high desert city. We had a great dinner at Geronimo, which is a holiday tradition for us.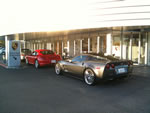 Corvette ZR1 lines up for Porsche Service. I had just turned in Candace's red Cayman S for service when a new Corvette ZR1 pulled up behind me. I thought the contrast between these two sportscars was dramatic. The ZR1 radiated CORVETTE while the Cayman S looked restrained in comparison. Both are great cars with their own special traits. That said, I note that Motor Trend picked a PDK equipped Cayman S as the best handling car in America over 9 other candiates which included a ZR1.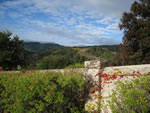 California Hills on an October Morning The combination of the fog on the distant Santa Cruz Mountains with the hillside vineyard just showing autumn colors makes for a beautiful image that captures the magic of Northern California.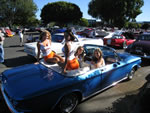 Hot Rods & Hooters Car Meet I took my 1964 Corvair Spyder convertible to a Breast Cancer Awareness Car Meet called "Hot Rods & Hooters." The big attraction was the Hooter's Restaurant girls who sold raffle tickets. As luck would have it, the local newspaper picked my Spyder for the photo they ran of the event. The other 200 plus cars lost out proving the star power of a Corvair.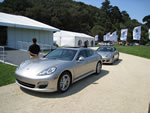 Porsche Panamera at Quail Lodge Test Drive Candace and I took a test drive of the new Porsche Panamera at Quail Lodge in Carmel California on August 10, 2009. Porsche had many Panameras in town for the annual Pebble Beach Concours Weekend. I got a nice semi-aggressive test drive through typical California coastal mountain roads. The Panamera is quite fabulous to drive. It is a Porsche! The interior is just drop-dead gorgeous and the controls are well designed and easy to use. Porsche will have a sure-fire hit IF buyers can get past the Quasimoto back.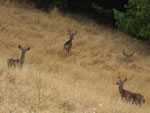 Mule deer along my morning walk These Mule deer just spotted me as I took my morning walk through the hills. These deer, along with bobcats and coyotes, are comfortable residents of our neighborhood. We have to keep a close watch on our little dog. She is fearless in chasing the deer and just the right size for a coyote dinner.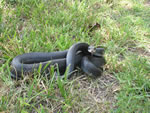 This is a Tennessee Black Racer in a coiled defensive position. The Black Racer is very quick and will aggressively defend itself. If you aren't snake adverse, you will note that it is quite beautiful. I got down close to eyeball level to take this picture. A human can easily outrun a snake but they can't out crawl one so some care is necessary.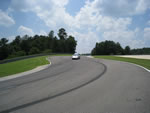 Porsche Sports Driving School I took this photo during the track walk session at the Porsche Masters Sport Driving School in June, 2009. An instructor is driving a Carrera down into the corkscrew turn at the Barber Motorsport Park in Leeds, Alabama. The track is simply beautiful in terms of both driving and landscaping. The track has many interesting elevation changes - none of the corners are flat. The Porsche people put on a great schoool.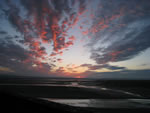 Sunrise at Mont-St-Michel I was up early on the ramparts of Mont-St-Michel in Normandy, France to capture this stunning sunrise. You can see all of our Normandy Photo Tour here.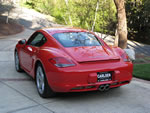 2009 Porsche Cayman S Candace traded in her beloved silver 2006 Cayman S for this red replacement. The Cayman S is similar on the surface to the 2006 but dramatically improved underneath with a DFI engine, PDK double-clutch transmission, limited slip differential, ceramic brakes, and a bunch of modern electonics to keep the iPod & iPhone well integrated. We have only 1,000 miles on the Cayman S but it was love at the first turn. It is a very sweet ride.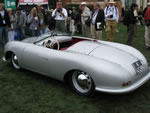 1948 Porsche 356 Prototype- Pebble Beach Concours August 2008This low slung car is instantly recognizable as a Porsche. It is called Porsche Number 1. The mechanicals are mostly derived from the Volkswagen Beetle. However, the engine is in a mid-engine layout. This approach was reversed to the rear-engined layout when the 356 went into production to reduce costs. The rest is history. Rear-engined cars became a trademark of a "classic" Porsche despite the mid-engined 914, Boxter, and Cayman. Today, the 911 continues this rear-engined tradition as the best sports car in the world. In 2008, the rear-engined Porsche GT3 RSR won the SCCA World Speed GT Championship and the American Le Mans Series GT2 Championship beating, in alphabetical order, Aston Martin, Cadillac, Corvette, Dodge Viper, Ferrari 430 GT, Ford GT, Ford Mustang, and Panoz. Not bad for a flat-six with the engine in the "wrong place."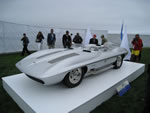 1959 Stingray Racer- Pebble Beach Concours August 2008 A beautiful silver car against a grey ocean sky made for a special picture. This Stingray Racer was driven by Dr. Dick Thompson to an SCCA C-Modified Division Championship in 1959. It was based on the mule car constructed by Zora Arkus Duntov in the 1957 SS Racer program. A new fiberglass shell was added to the tubular frame. You can see how the style influenced the 1963 Corvette Stingray.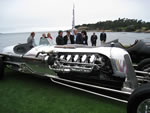 Jay Leno's Tank Car - Pebble Beach Concours August 2008 Jay Leno is explaining his carbon offset program for his "Tank" Car. On days that Jay drives this magnificent beast, Al Gore promises to have one hour of quiet time. The vehicle is powered by a 28.4 liter 1953 Chrysler V-12 tank engine used in the M47 Patton Tank. In its current twin-turbo form it produces 1,600 horsepower and 1,590 pounds-feet of torque.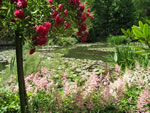 Monet's Garden's, Giverny France
We took a quick walk through the Maison et Jardin Claude-Monet before our stay in Honfleur. Of course, we took lots of pictures of the water lillies that are the theme of Monet's famous vast mural, Nympheas, that you can see at the Musee de l'Orangerie in Paris. The crowds were quite sparse during our mid-week June 18 visit.
Honfleur, Normandy France We stayed at Honfleur during our driving tour of Normandy in June 2008. This is a lovely old port city with a strong artist community. In 1608, Samuel de Champlain left here to found the city of Quebec in modern day Canada.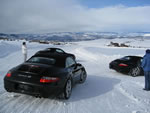 Porsche Camp4 Colorado Winter Driving Experience We attended the five day Porsche event that is held near Vail, Colorado. It was a blast! Porsche puts on a first class event at a first class facility with great driving and after hours social events including fabulous food at a different restaurant each night. The attention to detail was outstanding. The instructors and support crew get five stars.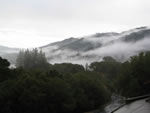 Foggy Dawn in the Santa Cruz Mountains This is my third in-a-row picture from our front veranda at daybreak. The fog is a picturesque change from the bright sunrises in the previous pictures. On mornings like this, the first hot cup of coffee is especially good.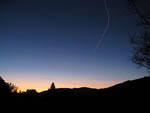 Venus at Dawn Candace and I were up early as usual. We were using our Christmas toy, a GPS Sky Scout, for the first time on the only visible object, which was Venus. A jet flew over and made a loop as if it were trying to avoid Venus.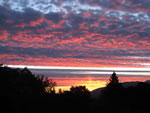 California Winter Morning - Merry Christmas We are always up before dawn to have our coffee and enjoy the sunrise from our little corner of the world in the Santa Cruz Mountains. We both love the dawn of a new day.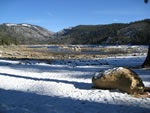 Pinecrest Lake in Winter Pinecrest Lake is drained every fall to make room for the spring snow melt. There are plenty of trout in the water that is left. Winter visitors use the gentle slopes for sled runs. The lake is located in the Sierra Mountains east of Sonora, California.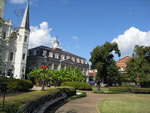 New Orleans Jackson Square Post Katrina 2007 We frequently traveled to New Orleans prior to the Katrina disaster on August 29, 2005. This Thanksgiving, we decided to spend a full week in New Orleans to reconnect with this special city. We are glad we did. We were warmly greeted by all we met in the hotel, restaurants, and shops. We enjoyed great dinners with that New Orleans touch at Mr. B's Bistro, Bacco, Galatoire's, Commander's Palace, and Stella!.
We did spend some quiet time on Thanksgiving morning driving through some of the heavily flooded areas that are still mostly abandoned. We then headed back to the French Quarter where you would think nothing had happened. The city is coming back but it still needs help. We think the best way is to visit, enjoy the city, and spend some money.
Porsche 997 GT3 Autocross Here I am in a Walter Mitty moment driving the 997 GT3 at a local autocross. The surface was quite slippery and I saw some nice spins as I worked during the event. The GT3 is a fabulous car to drive. I only wish I could have had one when I was a lot younger and a bit quicker. However, it is great FUN and much better than playing golf.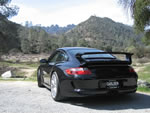 Porsche GT3 997 at Pinnacles National Monument I drove down to the Pinnacles National Monument to get some miles on the GT3 before trying it out in an autocross event. This photo provides a glimpse of the Michelin Pilot Sport Cup tires that are important contributors to the GT3's fabulous handling. Motor Trend recently named the 997 GT3 as the best handling car in America after a comprehensive set of tests.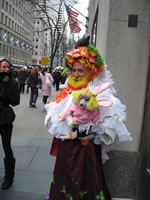 In Your Easter Bonnet - New York 5th Ave Easter Parade 2007 The original Easter Parade was a spring street fashion show put on by the well-to-do on Easter Sunday following church services. This annual event dates back to the mid-1800s. Today, it is more of a street version of Beach Blanket Babylon. We checked out the hats on April 8 on a cold day with snow flakes. This guy was our favorite with a parrot and a dog. Here is a link to a photo of a 1900 version of the parade.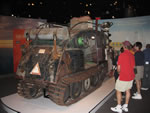 Bombardier Snow Mobile at the Smithsonian's National Museum of the American Indian in Washington, D.C. We were thrilled when we heard about the addition of a National Museum of the American Indian to the Smithsonian's museums in our nation's capital. When we made our first visit we had a difficult time balancing our expectations with the exhibits. This disconnect was due to our assuming that this was a historical art museum when, instead,it covers the past and present of Indian art, culture, religion, and way of life. A good example is the above photo of a Bombardier Snow Mobile used by the St. Laurent Métis community of Manitoba, Canada. The vehicle has tracks in the rear and skids in front, portholes on the side and a roof rack filled with fishing gear.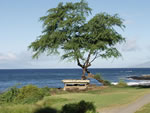 Missing History - WW II Bunker gone from Maui In November 2002, we stayed at the Grand Wailea resort on Maui. In the mornings, we took walks along the ocean. We enjoyed the beautiful ocean views along the paved walkway that winds along the shore. We paused each morning to ponder a bit of history that stood in dramatic contrast to the luxury resorts, a World War II era bunker. A rusted tank tread lay coiled alongside the bunker. We talked about how the bunker was a good reminder of the past and how fortunate we are today.

Sadly, when we returned in 2007, we retraced our steps to find that the bunker had been removed. We suspect that it was judged as a distraction from the uniformally beautiful ocean views as a new condo complex was constructed. This is a shame. We need to remember what our fathers and mothers endured to get us where we are today.

Here is an overview picture with a pointer to the bunker's former location. There is now a condo complex in the open area to the right of the bunker.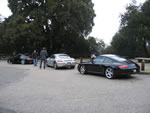 Porsche GT3, Cayman S, and Carrera S Road Test I recently went on a 90 mile Porsche test drive with two friends from France along the wonderful roads of the Santa Cruz Mountains. One of the French guys has raced Formula Fords and is an excellent driver. We switched back and forth between a 2007 997 GT3, a 2006 Cayman S, and a 2005 997 Carrera S. We drove along a mix of dry and wet roads. All of the cars were wonderful but some were more wonderful than others. At the end of the day there was unanimous agreement that the most fun and responsive cars were: #1 GT3, #2 Cayman S, #3 Carrera S. However, I found the Carrera S was just as special as the Cayman S in its distinctively rear-engined 911 way.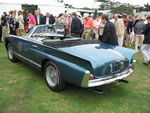 1956 Ferrari 250GT Boano This unusual Ferrari is a one-of-a-kind convertible built by Carrozzeria Boano using the 3 liter V12. Boano had a hand in the design of the 1955 Lincoln Futura concept car that sported fins in front & rear. As we all know, big fins became the big thing in U.S. Automobile design in the late 1950s. I admit that I now like the over-the-top look.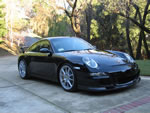 2007 Porsche GT3 997
Model
I just drove this latest 2007 version of Porsche's GT3 on a 100 mile loop through the Santa Cruz Mountains. The 415 HP engine is still based on the 3.6 liter version of the famous flat six. Based upon many miles of driving a 996 GT3, the first impression is that the 997 GT3 drives more like a 997 Carrera S than the 996 GT3. It is rock-solid stable with less of a tendency to "notice" pavement irregularities. I am trying to keep it under 4,000 rpm for awhile. I look forward to trying out the additional 4,400 rpm before hitting the 8,400 rpm redline. The sound of a 996 GT3 at 8,200 rpm coming off a corner took thirty years off my age. I imagine this latest version to do even better.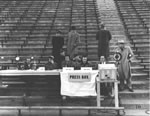 Texas Football Excitement I bought this old photograph in an antique store near Dallas, Texas so I made the assumption that it might be a Texas event. I was amused by the consistent expressions of pained boredom. They all seem to wish they were somewhere else.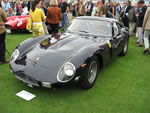 1962 Ferrari GTO The Ferrari 250 GTO was based upon the chassis of the 250 GT SWB combined with a 3 liter V12 engine from the Testa Rossa. The body was designed by Chief Engineer Bizzarini and Designer Scaglietti with the help of a wind tunnel. In its 1962 racing introduction at the 12 Hours of Sebring, Phil Hill and Olivier Gendebien drove a GTO to 2nd overall and first in the GT class. The GTO went on to win three manufacturer's championships in a row, 1962, 1963, 1964. The GTO was finally bested by a bunch of California hot rodders who put a slippery body on a Shelby Cobra and gave the racing world the fabulous Daytona Cobra.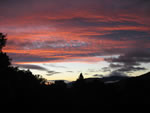 Sunrise over Silicon Valley I tend to rise before dawn so that I can enjoy my first cup of coffee and watch the sunrise from our little corner of the world in the foothills of the Santa Cruz Mountains in Northern California. The dawn is quite lively here with deer, bobcats, and coyotes using our yard as their gateway to the mountains.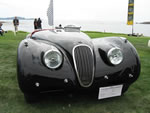 1950 Jaguar XK 120 Roadster - Pebble Beach 2006 The Jaguar XK 120 was the first post-war model for Jaguar. It featured the new XK engine - a dual overhead camshaft straight six with two side draft SU carburetors. This advanced engine design powered Jaguar cars into the 1980s. The XK 120 had a top speed of 120 mph, which was at the top of the sports car food chain in 1950.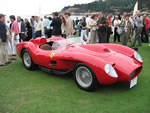 1957 Ferrari Testa Rossa - Pebble Beach 2006 This beautiful car was one of Ferrari's most successful racing cars. Its Scaglietti body is quite unusual in the fender design. Testa Rossas won Le Mans in 1958, 1960, and 1961. This is the second most expensive collector's Ferrari after the 250 GTO (about $8,000,000 USD)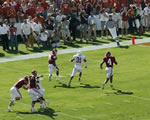 Oklahoma's Adrian Peterson heads for the end zone- October 7, 2006 Adrian Peterson scores a second quarter touchdown against Texas in the Red River Shootout at the Cotton Bowl. This was the high point of the game for Oklahoma. My Sooner alma mater had five turnovers and 70 yards in penalties in a 28-10 loss. I have posted a section on this great college football weekend in the New Photos section that includes a sequence of five pictures of this run.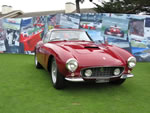 Ferrari 250 GT SWB at Pebble Beach - 2006 The Ferrari 250 GT SWB (Short Wheel Base) was introduced in 1959. It was a fabulous dual purpose car that could be driven and raced. In 1962, the SCCA had the Ferrari 250 GT SWB and the new 327 CID Corvette in A Production (AP). I saw Bob Grossman race his Ferrari against Dr. Dick Thompson in a 327 Corvette at Meadowdale raceway near Chicago, Illinois. I was cheering for the Ferrari but Thompson easily won the AP race and Don Yenko won BP in 283 CID Corvette. Thompson went on to win the AP national title. Corvair fans will note that Don Yenko created the Yenko Stinger in 1966 and that Dr. Dick Thompson drove a Stinger to win its first national race at Marlboro. I would love to own a Ferrari 250 GT SWB and a 1962 Corvette. Today, the Ferrari goes for about $1,600,000. The Corvette is "only" $55,000.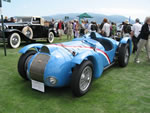 1937 Delahaye Grand Prix 145 at Pebble Beach - 2006 The 145 Grand Prix Car won the famous time trial for a million Franc prize by besting the previous record set by an Italian Alfa Romeo in 1934. The trial was based upon the new 1938 Grand Prix specification which allowed a 4.5 liter naturally aspirated engine or a 3.0 liter forced induction. Delahaye made the deadline for the race with a 4.5 liter V12 engine featuring aluminum and magnesium alloys for the heads and block respectively plus a very unique three camshaft system (two exhausts & one intake). The 145, with Rene Dreyfus as the driver, won the prize by covering the 200 kilometer course at an average speed of 146.654 km/hr compared to the very close speed of 146.508 km/hr for the Alfa Romeo. The type 145 and Dreyfus got a jump on the Grand Prix season by winning two races before the more powerful Mercedes Benz supercharged 3.0 liter cars started to dominate. A coupe was made from some of the 145 race cars.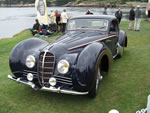 1937 Delahaye Coupe 145 at Pebble Beach - 2006 This V12 road car with body by Chapron is based upon a racing 145. Henri Chapron was a famous French custom body builder who started in 1919. His last works were custom designs for the Citroën automobiles. He died in 1978 and his widow continued building custom Citroëns until 1985 when the operation was ended.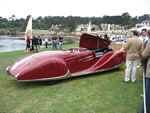 1939 Delahaye Cabriolet 165 at Pebble Beach - 2006 Emile Delahaye started the Delahaye company in Tours, France in 1894. He left the company in 1900 but his creation continued until after World War II. This model has a custom coach by Figoni et Falaschi, who created many beautiful designs for French cars from their works in France. The car is powered by a 4.5 liter V12 engine. It was built for the New York Worlds Fair of 1939.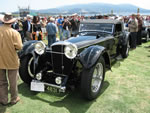 1931 Daimler Double-Six 50 Corsica Drophead Coupe This beautiful car won the 2006 Best in Show at the Pebble Beach Concours. The 1931 Double-Six Corsica Drophead Coupe has a V-12 engine. It is the only surviving one of the four originally made.

Since 1896, Daimler has been the motor car marque of the British Coventry-based Daimler Motor Company. It has no relationship to today's DaimlerChrysler. The company was a subsidiary of BSA from 1910 until 1960, when it became part of Jaguar. It is now a subsidiary of the Ford's Premier Automotive Group. As of 2006, its production is limited to only one model, the Daimler Super Eight.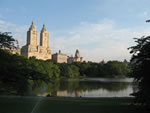 Water Tanks on New York Skyline I took this picture from Central Park on an early August 2006 morning. You can clearly see three water tanks on top of the buildings in the center of the photo. The tanks provide adequate water pressure to buildings higher than six stories. Additionally, New York fire code requires two independent sources of water for buildings. If two water mains aren't available, then a water tank is used for the second source. These tanks are typically made of wood (cedar) because the wood is cheaper and lighter. These tanks have been a part of the New York skyline since the mid-19th century. When you are walking in New York spend time looking up at the top of the buildings.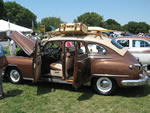 1948 Chrysler Traveler There are just 12 of these unique cars left today. The wood luggage rack was designed and built by the Chris Craft boat company. A 250 cubic inch Spitfire six cylinder putting out 114 horsepower powers this car. It would look great in Malibu Beach.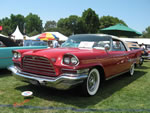 1959 Chrysler 300E This Chrysler 300E has a 413 CID engine breathing through two four-barrel carburators. It was rated in its day as having 380 horsepower. The owner says only 140 of these were produced of which seven are known to exist. In my pre-16 days, the Chrysler 300 series was the car every boy wished his dad drove.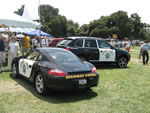 Upscale California Highway Patrol Cars As you might expect, the California Highway Patrol drives appropriate vehicles in Northern California to keep up with the trendy San Francisco & Marin County folks like Nancy Pelosi and Barber Boxer.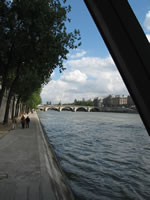 Paris in Springtime I took this picture in 2006 from under the "new" footbridge that crosses the Seine from the Tuileries to the Orsay Museum. The towers of Notre Dame can be seen in the distance.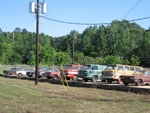 Corvair Lineup in East Texas. I was driving east on Texas Highway 21 just outside of Douglas, Texas listening to a 60's Rolling Stones song when I noticed this lineup of Corvairs. I suppose somebody is liquidating a collection. I couldn't get close due to a chain link fence to check them out. Here in East Texas stands 9/1,786,243 of the Corvair total production.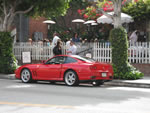 Ferrari 575M Maranello at The Ivy in West Hollywood My granddaughter wanted to have lunch at "The Ivy" restaurant when we visited Los Angeles during her 2006 spring break. This place is popular among the Hollywood set and was featured in the 1995 Travolta-DeVito "Get Shorty" movie. We called days ahead for a lunch reservation and were fitted in at 1:45 pm. The $22 cheeseburgers were pretty good.

The most popular "in" vehicles seemed to be SUVs with the Range Rover and Cadillac Escalade as the favorite choices followed by a few Porsche Cayennes. I wondered how so much All Wheel Drive engineereing went into such a goofy utiliztaion. However, the car that got the prime Valet parking spot was this gorgeous Ferrari with Texas plates.
1964 Cobra Daytona Coupe CSX2300 In 1963, Carroll Shelby needed a higher top speed to compete with the Ferrari 250 GTO than was possible in his Cobra roadsters. Peter Brock came up with a more aerodynamic design and 6 coupes were built. In 1965, Dan Gurney and Bob Bondurant won the 24 Hours of Le Mans GT class in the new coupe. Bondurant stated that he hit over 190 mph on the Mulsanne Straight lap after lap. There is a great DVD called the "Cobra Ferrari Wars" that covers this story.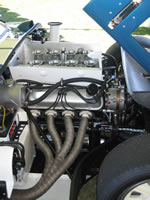 1964 Cobra Daytona Coupe Engine This Ford-based engine demonstrates how simplicity and cubic inches can triumph over a multi-cam technical marvel such as the Ferrari 250 GTO. In 1964 a Cobra Daytona Coupe won the GT class at Le Mans over Ferrari. Compare how this engine looks to a Ferrari V12 picture. Today, the new Corvette Z06 is a living example of this approach.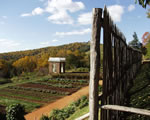 Thomas Jefferson's Monticello Vegetable Garden This vegetable garden served as a source of food for the table and as a laboratory for experimentation. Jefferson grew hundreds of varieties of over 70 species in this garden.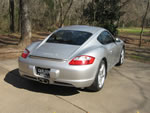 Porsche Cayman S in the woods of Texas I took this picture of this beautiful mid-engined coupe in February 2006. It certainly has that Porsche look but, at the same time, is quite distinctive from the 911, especially when viewed from the rear as in the photo. If you look at the 1953 Porsche 550 coupe you will see a resemblance to the Cayman. The 550 coupe won the 1500cc class at Le Mans in 1953. Today, Porsche has a real winner with their new Cayman.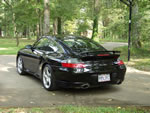 Porsche 996 Turbo in the woods of Texas. I got this great car in 2001 and drove it until I traded it for the ultimate traditionalist's Porsche, a 911 GT3. This was my second 911 Turbo. I took it to a Porsche Club of America autocross class in 2002. My instructor's reaction on the first straight was "Holy - - - -!" He had experience racing a 911 but deemed this car as "absolutely fantastic." That was 2002, wait until you see the 2007 Turbo.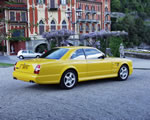 Bentley Continental T at Villa d'Este, Lake Como, Italy I chanced upon this Bentley Continental T in 2001 when we stayed at the Villa d'Este resort hotel at beautiful Lake Como, Italy. If the other car wasn't in the background this photo would work as a brochure cover. In 2001, this Bentley was declared the "greatest Bentley in half a century" by AUTOCAR magazine. It's 6.5 litre turbocharged engine produced 420 hp and an amazing 620 lb. ft. of torque making it the fastest-accelerating Bentley ever built.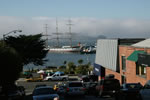 Alcatraz Island in the fog as seen from San Francisco. There is nothing quite like watching the fog roll in on a sunny day in San Francisco. We had a picnic of fresh crab and sourdough bread.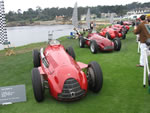 Alfa Romeo Grand Prix Racing Cars at Pebble Beach, 2005A string of Alfa Romeos starting with the champion Type 159 are shown on display at the 2005 Pebble Beach Concours.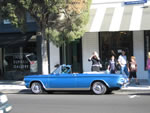 1964 Corvair Spyder in Los Gatos, California Our 1964 Corvair Spyder convertible is a big hit with the sidewalk strollers on a sunny Sunday in Los Gatos, California.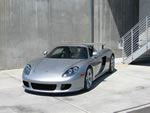 Porsche Carerra GT Candace and I got to ride in this 605 hp exotic for one hot lap at Barber Motorsports Park in Birmingham, Alabama. We had just spent two wonderful days on the track in Porsche 911s. The Carrera GT operated at a significantly higher level than the 911s. It started with gobs of acceleration and engine noise and our ride was over before we realized that we had completed a lap. The Carrera GT made the 911 S seem tame.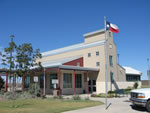 Highway Rest Stop - Texas Style We stopped at this new rest stop on the road between Dallas and Amarillo. It was a mix of Texas & Technology starting with the "Watch for Snakes" sign and going on to include an inside tornado shelter and free Wi-FI high speed Internet access. We liked it!
Ferrari V12 Engine - with 3 Webers at Pebble Beach Concours 2005. A classic engine - I wonder if it ever gets to the red line. I really enjoy these concours but prefer to drive the cars I own, or dream to own.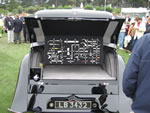 You can never have enough tools I took this picture at the 2005 Pebble Beach Concours. I didn't note the car type but was impressed by the tool kit.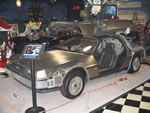 Delorean Back to the Future Time Machine
- I saw a number of Deloreans at the the 2005 Palo Alto Concours show but thought that this most famous Delorean should get the photo space. The Delorean has a stainless steel skin, gull wing doors, and a Corvair-like rear-engined layout using a Volvo V6 and a Renault transmission. It was produced in Northern Ireland with substantial financial help from the British Government. The car flopped and the founder, John Delorean, made quite a name for himself and was arrested in a sting operation but acquited via an entrapment defense. If you ever get to Illinois, you can see this car plus many others at the Volo Auto Museum . .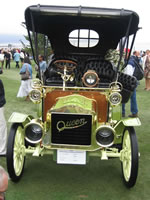 1905 Queen In 1904 the C. H. Blomstrom Motor Car Company was formed in Detroit. In October 1906, after building about 1,500 Queens, the Blomstrom Company amalgamated with the De Luxe Motor Car Company.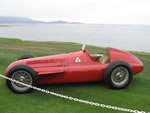 Alfa Romeo Gran Premio 159 - Juan Manuel Fangio won the
1951 World Championship driving a 159.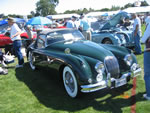 Jaguar XK150 - This is the last of the traditional Jaguar sports cars built before the introduction of the fabulous XK-E. It was built from 1957-1961. As time as passed, it has become my favorite Jaguar replacing the XK-E.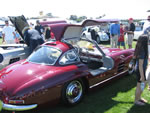 Mercedes Benz 300 SL Gullwing - The Gullwing is a higly prized, and priced, collector's dream car. The Gullwing was intrduced at the 1954 New York autoshow. It featured fule injection nd, of course, the doors.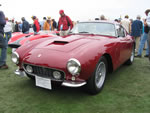 Ferrari 250 SWB This 1960 Ferrari Short Wheel Base (SWB) was designed by Sergio Scaglietti. The Ferrari 250 SWB was a dual purpose car for street and track.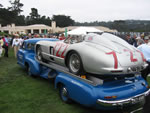 Mercedes Benz 300 SLR & high speed transporter. Sir Stirling Moss won the famous 1955 Mille Miglia in this # 722 car setting a record time with journalist Denis Jenkinson as navigator. The car number reflects Moss's starting time of 7:22 a.m.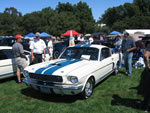 Shelby GT350 This 1966 Shelby is one of my favorites. It is decked out in USA racing colors (white with blue stripes).